Bracing for Scoliosis
In 2013, Dr. Moramarco introduced the Cheneau-style scoliosis brace known as the Gensingen Brace® (GBW) in the US. This innovative, asymmetric 3D scoliosis brace is for adolescents with idiopathic scoliosis (AIS), and also for adults with scoliosis. It is, by far, the most advanced innovation currently available when bracing for scoliosis.
Schroth Scoliosis Brace
Each custom-designed scoliosis brace has a built-in correction effect. The brace strives to improve Cobb angle and help the patient improve postural appearance. Each brace is designed with openings at the spinal concavities. This allows for Schroth corrective breathing with the goal of spinal derotation. Every brace is custom-designed for the patient's individual curve pattern and size – it's not an off the shelf scoliosis brace. Traditional scoliosis braces, like the Boston Brace, only aim to stop curve progression. The Gensingen brace is set apart in that it is designed for improving scoliosis in the three spinal planes for lasting results rather than just keeping the spine and rib cage from getting worse. Kids who have to wear scoliosis braces deserve a chance at better outcomes!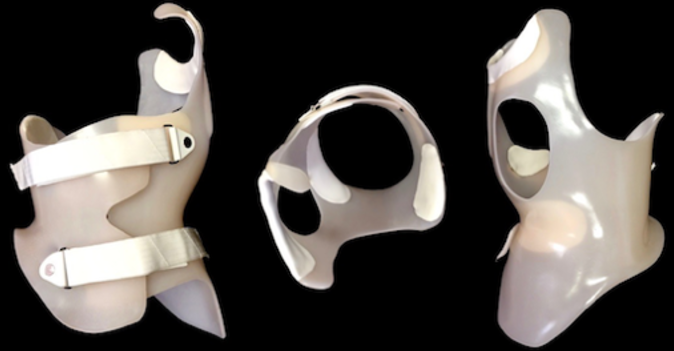 After initial measurement in our office, each patient's personal information (including x-rays and 3D body scan) is uploaded and sent to Germany. Each Gensingen brace is Schroth method compatible and designed by scoliosis expert and Cheneau brace developer (his previous scoliosis bracing innovation was the Cheneau-Light Brace), Dr. Hans-Rudolf Weiss. Dr. Weiss is the third generation of the Schroth family involved in scoliosis treatment. He has also recently developed techniques that are advancements to the Schroth method, called Schroth Best Practice®.
All Gensingen braces for patients in the US and Canada are fabricated in the US. Each brace produced is overseen by  Dr. Moramarco. At our office, we are able to begin brace fittings within twenty-four hours of a patient's initial measurement, if need be. We do this for patients who come from across the US, from the Caribbean, from Canada, and from international locations. We believe that producing a brace for our scoliosis patients should be as fast as possible since there is always the potential for progression when a young adolescent is growing and even a few weeks without a brace, when one is needed, can make a difference. When a patient comes from a distance, the overall turnaround time is less than four days from initial scan to the final bracing appointment.
The Gensingen brace strives for a higher standard than other scoliosis braces, in terms of comfort,  correction, and the cosmetic improvement of the torso. Click here for a comparison of scoliosis braces. The Gensingen brace can be used alone or in conjunction with a Schroth method exercise program. When possible, the best strategy for treating scoliosis successfully is to use both approaches for effective scoliosis management.
Dr. Marc is dedicated to helping families manage the trials of a scoliosis diagnosis to a successful conclusion. As the North American Cheneau – Gensingen Brace instructor and distributor, he holds courses for orthotists and other spinal care professionals interested in providing their patients with Chêneau scoliosis braces. He is thoroughly committed to spreading the use of this highly effective brace to enable more kids to have the opportunity to get impactful help for scoliosis.
Please visit us at Scoliosis 3DC for more on our advanced Cheneau-style scoliosis bracing as well as general information on scoliosis or our Schroth method intensive programs. If you fill out the contact form on this site, we will be in touch soon.
For bracing practitioners interested in providing Chêneau bracing to their patients, learn more at Scoliosis Bracing Innovations, Inc.